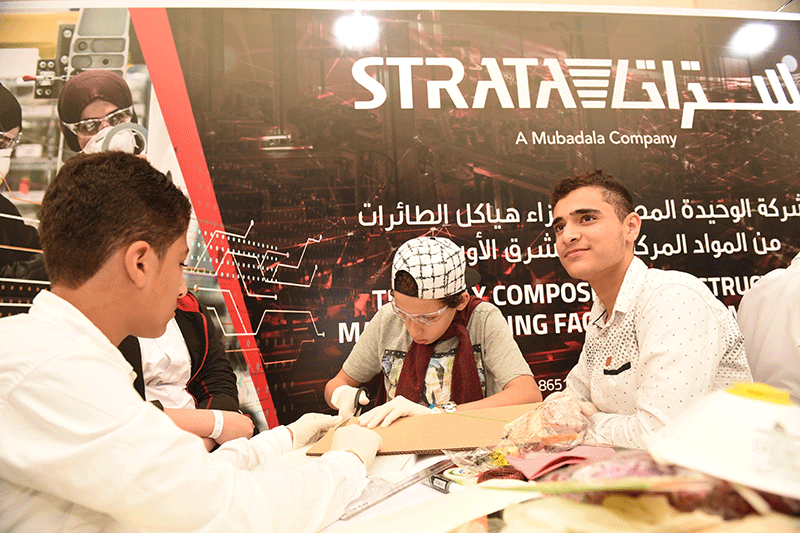 STRATA CONTINUES TO INVEST IN UAE YOUTH INNOVATION AND EMPOWERMENT
Al Ain-based aerospace manufacturer kicks off month-long youth outreach programme in partnership with Think Science and the Tawteen 360°Student Forum
Al Ain, UAE – 10 March 2019: Strata Manufacturing, the advanced composite aero structures manufacturing company wholly owned by Mubadala Investment Company PJSC, has participated in a nationwide outreach programme to further empower UAE youth by contributing in initiatives led by Think Science and the Tawteen 360° Student Forum.
The Al Ain-based company will tour six emirates to host a series of motivational talks and workshops focused on educating and encouraging Emirati youth to engage with science, technology and innovation as part of Think Science – a programme set up by the UAE Ministry of Education and Abu Dhabi Department of Education and Knowledge. The event aims to identify eager and gifted youth with advanced innovative solutions that seeks to serve a community benefit and betters the lives of others.
"To realise the UAE's wider goals of building a knowledge-based economy, ambitious and skilled talent is required to drive necessary growth forward. Through initiatives such as Think Science and Tawteen, Strata is able to encourage the country's youth to consider a career in the aerospace industry, a key sector- driving the UAE's vision of youth development and economic diversification," said Ismail Ali Abdulla, CEO of Strata.
"With more than half of our workforce being UAE nationals, Strata is a global success story built on homegrown assets. Our commitment to nurturing, developing and championing the leaders of tomorrow is the foundation of Strata's long-term growth, with our skill-based workforce amplifying Abu Dhabi, and the wider UAE, as a manufacturing hub," added Abdulla.
In line with Think Science's focus on empowering and supporting youth across the UAE, Strata's expert engineers will share insights on several topics in addition to showcasing various technologies used in the manufacturing processes such as Additive Manufacturing. Topics include best-practises on success, how to create opportunities, accepting challenges and pushing boundaries, plus innovation and improvement.
As part of the wider Think Science competition, Strata will also host workshops where students build an airplane using materials and structures provided by the Al Ain-based manufacturer. The students will be asked to consider safety, quality, cost, delivery and people when manufacturing the aircraft. The hands-on activity gives participants the opportunity to solve a real-life problem through teamwork and creative thinking.
Strata also participated in Tawteen 360° Student Forum in Fujairah on February 25-27, a student forum hosted by The Ministry of Human Resources and Emiratisation in partnership with the Ministry of Education. The event offered students an exciting journey with dedicated stations led by leading company's across the UAE, including Strata, that provided attendees with a comprehensive experience to prepare them for future careers.
Strata's support of youth-focused events such as Think Science and Tawteen aligns with the company's ethos and existing initiatives to educate and encourage Emirati students. Through its efforts, and collaboration with partners, Strata is contributing to the creation of a platform that will enable youth to become leaders of the future.
For further information, please contact:
Dana Oraibi/Petra Katusak
strata@actionprgroup.com
+971 4 390 2960
About Strata
Strata Manufacturing PJSC (STRATA) is a composite aero-structures manufacturing facility based in the heart of Nibras Al Ain Aerospace, Al Ain, United Arab Emirates. The company was established in 2009, with production beginning in 2010. Strata has partnerships with the world's leading aircraft manufacturers such as Airbus, Boeing and Leonardo-Finmeccanica Aero-structures Division as well as a Tier one supplier to FACC AG, SAAB and S.A.B.C.A.
Strata is wholly owned by Mubadala Investment Company PJSC (Mubadala), the Abu Dhabi-based investment and development company and is part of the Aerospace, Renewables & ICT platform that aims to advance the development of a leading aerospace hub in Abu Dhabi.
Strata manufactures various parts on Airbus, Boeing, ATR and Pilatus aircrafts:
Airbus A330 family Flap Track Fairings
Airbus A330 family Ailerons
Airbus A330 family Spoilers
Airbus A350 – 900 family Flap Support Fairings
Airbus A350 – 1000 family Flap Support Fairings
Airbus A350 – 900 family Inboard Flaps
ATR 42/72 Rudder
ATR 42/72 Vertical Fin
Boeing B777 Empennage Ribs; and
Boeing B787 Vertical Fin Ribs
Pilatus PC-24 Belly Fairings
Pilatus PC-24 Flap Track Fairings