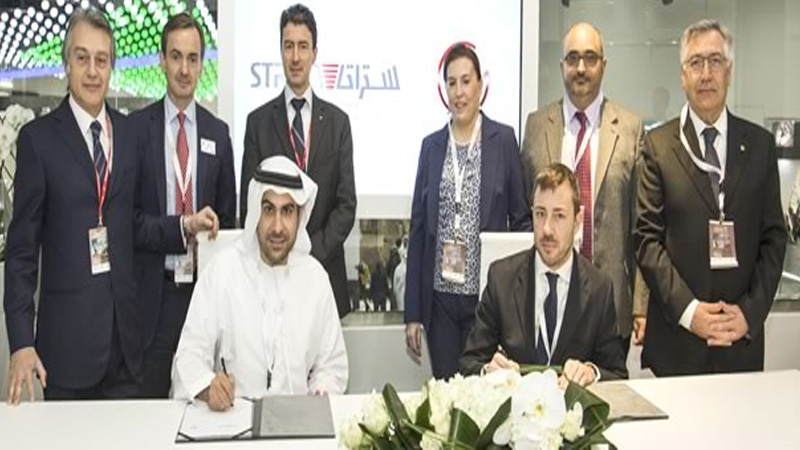 Strata to subcontract vertical fin and ATR rudder work to GSE industria aeronautica
Strata Manufacturing PJSC, a composite aerostructures manufacturing facility, wholly owned by Mubadala Development Company, today announced the signing of its first international outsourcing agreement that will subcontract its ATR vertical fin and rudder programs to GSE Industria Aeronautica srl in Italy.
This deal represents a significant milestone for Strata, whereby new capabilities will be developed in placing work packages in various geographic locations and managing a global value chain. It is also the first step towards expanding Strata's capabilities beyond aerostructures composite manufacturing by forging new relationships with other aerostructure manufacturers from around the globe.
The eight year contract, valued at approximately USD120 million, will include the delivery of 90 shipments per year to the final assembly line of the ATR aircraft in Toulouse, France. The first ATR rudder produced by GSE under this agreement is expected to be delivered in March of this year.
This new phase of development requires a range of skilled resources from the aerospace industry and deep understanding in aerostructures manufacturing, as the new supplier is trained to meet the on-time delivery of products in accordance with the rigorous and high quality standards expected by the aerospace industry.
This deal will also strengthen Strata's global competitiveness, as the company provides comprehensive solutions and benefits by using low-cost suppliers able to manufacture less complicated parts or by co-locating manufacturing closer to its customer thereby lowering shipping costs and mitigating against risks associated with the movement of high value aircraft parts.
Badr Al Olama, CEO of Strata, said: "This is an important program to Strata's journey in establishing a leading position that reinforces Abu Dhabi as a growing manufacturing base for the global aerospace industry."
He continued: "The company will develop its supply chain capabilities, and support the development of UAE nationals in global project management. Furthermore, Strata will have more capacity within its facility to bring in new programs that require advanced technologies. This paves the way towards becoming one of the top three composite aerostructure manufacturing companies by 2020."
GSE aerospace is an Italian private company located in Brindisi, Italy specialized in manufacturing engineering of structural aeronautic components, fabrication sheet metal parts and composite parts, plus the assembly of structures of aircraft and helicopters.
Massimiliano Elisei, CEO of GSE Aerospace, said: "By signing the contract, GSE confirms the international vision of its business and hopes that the new relationship with Strata will turn into stable successful partnership for other programs. To highlight the importance of the agreement, the senior leadership of the company, led by the owner Francesca Armellini, have joined the event today".
An experienced team from Strata will be based in Italy and will include a diverse set of skilled professionals with project management, quality management and manufacturing engineering expertise.