Strata, Hyperganic, and EOS to jointly build world's most efficient residential air conditioner that uses 10 times less energy at same price point

The industry partnership supports UAE's 'Energy Strategy 2050' and targets the UN climate change conference in 2023 to introduce project updates
Air conditioners account for 20% of global electricity usage – to mitigate the impact A/C units have on global warming, STRATA Manufacturing PJSC is partnering with EOS and Hyperganic to build the world's most efficient air-conditioner that dramatically consumes less energy.
Hyperganic, an AI-based engineering platform company with offices in Germany and Singapore, today announced that it is partnering with Strata Manufacturing, a UAE-based Advanced Manufacturing Company, and EOS, the leading supplier for responsible manufacturing solutions via industrial 3D printing technology, to build the world's most efficient residential Air Conditioner (A/C) system.
The International Energy Agency projects that energy demand for air conditioners will triple by 2050 — equivalent to adding 10 new devices every second for the next 28 years. Even today, A/C units account for 20% of global electricity usage.
The strategic alliance between the three companies will help solve this environmental challenge through advanced engineering and digital manufacturing.
The partners will combine Hyperganic's Algorithmic Engineering approach with the industrial metal 3D printing process pioneered by EOS, and Strata's implementation of digital production lines. The targeted result will be a residential A/C unit that is not only 10 times more efficient, but can be sold cost-competitive compared to conventional A/C units.
With sustainability as the focal point of the collaboration, the companies plan to show project updates at the United Nations Framework Convention on Climate Change (UNFCCC) COP28 to be hosted in the UAE in 2023.
The three partners sealed the collaboration today at an official signing ceremony witnessed by H.E. Dr. Sultan Ahmed Al Jaber, United Arab Emirates Minister of Industry and Advanced Technology and H.E. Sara Al Amiri, United Arab Emirates Minister of State for Public Education and Advanced Technology.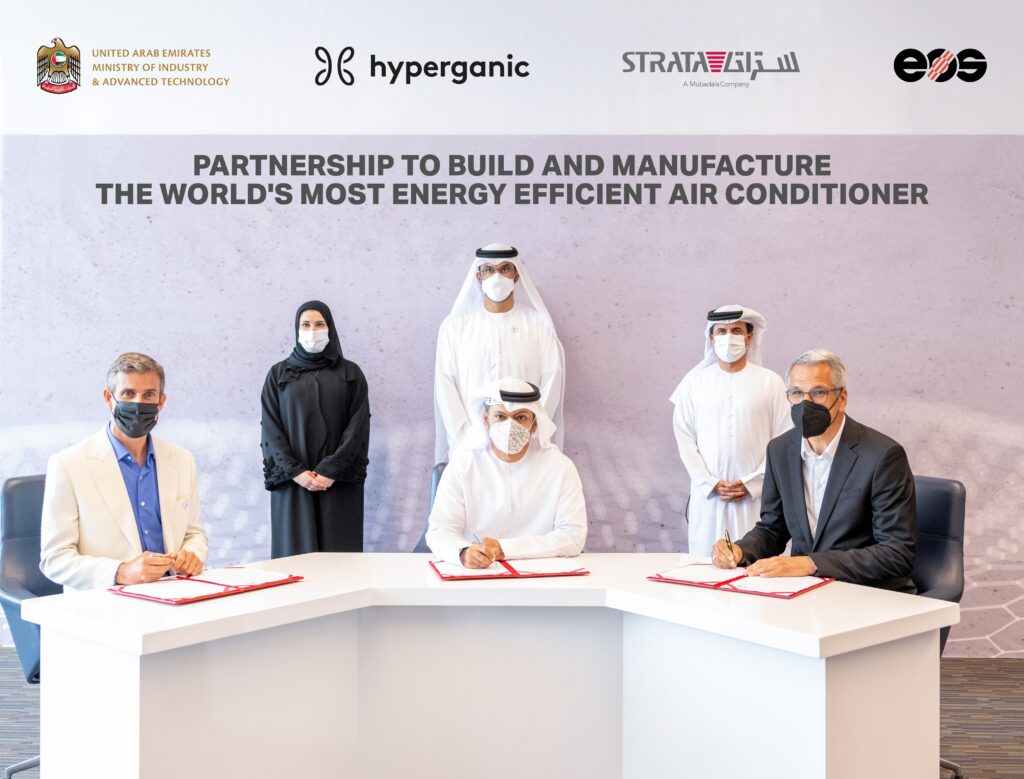 Hyperganic used the event to announce the opening of its Dubai Engineering Office at the beginning of July. Hyperganic's UAE team, which is expected to grow to 20 engineers by the end of 2022, will work closely with Strata's team in Abu Dhabi and the EOS team on the implementation of the project.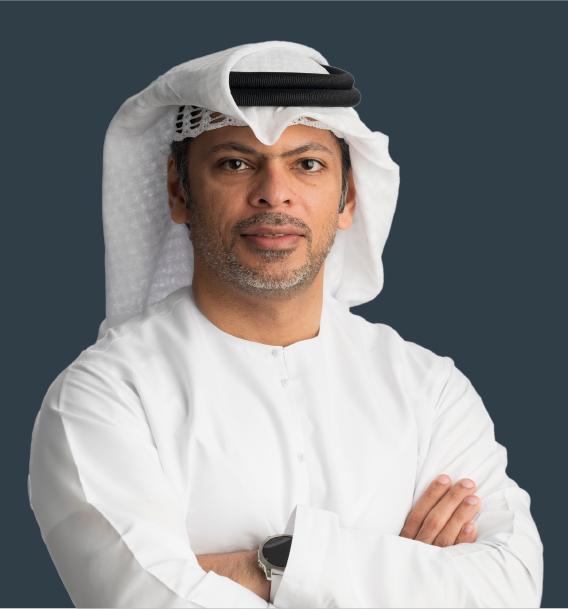 Ismail Ali Abdulla
Managing Director and CEO of Strata
A Message from our Managing Director and CEO of Strata
This partnership is an inspiring model for industrial pioneers in terms of benefiting from the nation's attractive industrial environment and the advantages and capabilities provided by the UAE, which stimulate partnerships based on innovation, creativity and expansion in modern industrial sectors.

Here, I must commend MoIAT's role, which crafted a conducive environment for investments and building partnerships, especially through the Make in the Emirates campaign; an open invitation for investors, manufacturers and innovators to invest in the UAE's industrial sector.

Through this project, we will work with Hyperganic and EOS on building the advanced technological manufacturing processes necessary for the product's success. This partnership is a real leap for Strata, which is based on investing in 4IR technologies and building new avenues for industry. This aligns with Strata's strategy for advanced industries and helps realize the national vision for developing the industrial sector and conducting partnerships based on innovative solutions.
PATHWAY TO COP28 UAE
30 Nov – 12 Dec 2023, Expo City Dubai
In this decisive decade for climate action, the UAE will seek to unite the world towards agreement on bold, practical, and ambitious solutions to the most pressing global challenge of our time.