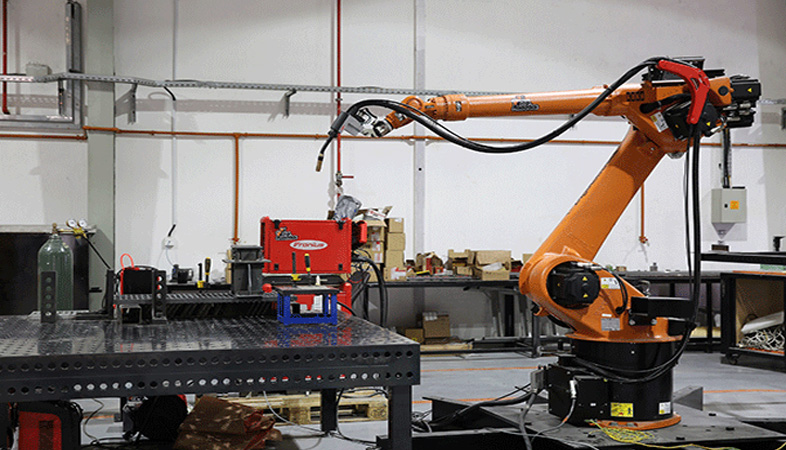 Home advantage! Strata to optimise manufacturing operations with advanced automated drilling system
Strata Manufacturing PJSC (Strata), the advanced composite aero-structures manufacturing facility wholly owned by Mubadala Investment Company PJSC, is set to collaborate with UAE-based DGWorld (Digi Robotics Technologies) to implement a robotics system within Strata's manufacturing processes.
The agreement enables Strata to automate the company's operations assembly unit, including drilling, reaming and countersinking — activities that are critical in the production of aircraft components. Once the process is qualified, the robotics system will be integrated into Strata's production line that develops composite aerostructures for major aircraft manufacturers.
"Strata's move towards automating production capabilities with the use of robotics alongside our employees, will offer greater efficiency advantages for our global customers," said Ismail Ali Abdulla, Chief Executive Officer, Strata Manufacturing.
"Investing in transformative research and technologies has always been key to our international growth strategy and partnering with DGWorld, a UAE-born firm, demonstrates that the 'Made in the UAE' brand has much to offer on this journey. This partnership enables us to expand our technological qualifications on several customer programmes, making us more advanced, competitive and efficient — a future that we are looking forward to as Abu Dhabi realises its ambitions in transforming its economy into diverse industries, inclusive of a sustainable aerospace sector."
Dubai-based DGWorld specialises in implementing automation and robotics solutions for manufacturing, industrial and unmanned aerial vehicle applications in the Middle East region.
''We are delighted and proud to work with Strata on such an innovative and prestigious program within the UAE. We believe this strategic partnership between DGWorld and Strata will propel us towards the futuristic vision that the UAE is leading in digitalisation, smart technologies and industry 4.0'' , said Bilal Al Hattab, Chief Executive Officer, DGWorld.
This collaboration allows Strata to leverage the benefits of a local supply chain. Presently, half of the manufacturer's vendors are based in the United Arab Emirates. When operational, the robotics system will be incorporated into Strata's Al Ain- based facility.
Since its inception in 2009, Strata has emerged as a Tier 1 supplier of aero-structures for global original equipment manufacturers. Powered by a 700-strong workforce, the company also has a thriving research and development unit engaged in projects related to automation, advanced materials and additive manufacturing solutions.