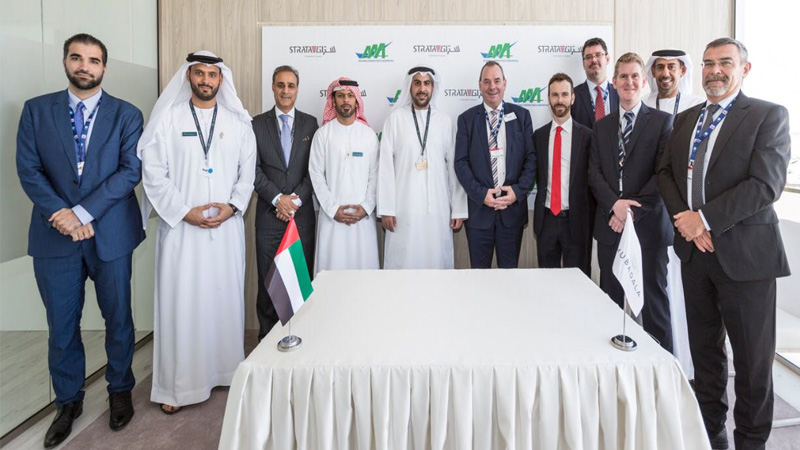 Strata-AAA partnership set to capture global supply chain opportunities
Strata Manufacturing PJSC (Strata), the advanced composite aerostructures manufacturing facility wholly owned by Mubadala Investment Company (Mubadala), today signed a memorandum of understanding (MoU) with Assistance Aéronautique et Aérospatiale (AAA), a key player in the aerospace industry for on-site operations, working on all civil, military and business aircrafts.
The MoU will enable Strata and AAA to collaborate and further contribute to aircraft manufacturing support services and advancement of vital supply chain capabilities in line with Strata's strategy towards sustainability, competitiveness and growth.
The agreement was signed by Ismail Ali Abdulla, CEO of Strata and Gilles Chauby, CEO of AAA, in the presence of senior management from both organizations on the sidelines of the Dubai Airshow 2017.
Ismail Ali Abdulla, CEO of Strata said: "With a common vision and shared values, we look forward to working even closer together with AAA to explore opportunities to integrate our commercial interests and develop common projects and joint operations. This partnership will enable our workforce to leverage AAA's strong product knowledge and supply chain expertise to further develop our products, services and supply chain capabilities in line with global best practices in the aerospace sector."
Abdulla continued: "We are keen to further investigate the possibility of utilizing AAA's expertise in industrializing work packages. We will also be looking for AAA's support with specific technical resources to support our upcoming projects."
Headquartered in Paris, France, AAA, is privately held company that performs as a major on-site service provider, offering industrial production and assembly, manufacturing engineering, industrialization, Final Assembly Line (FAL) services, FAL integration, flight line services, Out Standing Works (OSW) & Out Located Works (OLW), quality conformance management, quality inspection, airlines services and Maintenance, Repair & Overhaul (MRO) to more than 50 customers across the world.
Gilles Chauby, CEO, AAA said: "The development of the aerospace industry requires strong strategic partnerships such as the one we want to build with Strata. We are therefore honored by the trust Strata is placing in us to support their future projects in the United Arab Emirates, Europe and in the world. Through this agreement, reinforced by a common vision and shared values, AAA will put at the disposal of Strata its aeronautical services enabled by the 3,500 employees based around the world."
"Our experience in manufacturing engineering, production, supply chain, and MRO on most of the civil & military aircrafts will be pooled together with Strata extended expertise as major aerostructure manufacturer," Chauby continued. "With this agreement we will be pleased to address to our two joined networks, which include the major aerospace manufacturers, equipment suppliers and airlines, a common strategy of sustainability, competitiveness, quality and growth."
He continued: "The combination of Strata's and AAA's complementary strengths and expertise outlines a partnership full of opportunities for both companies. We are now eager to build on this partnership and begin a strong and long term collaboration."
Strata is a tier 1 supplier of components to Airbus and Boeing, and has since its launch in 2009, focused on the production of primary and secondary aero-structures using advanced composite materials. Strata and AAA have been sharing product synergies and collaborating together since 2011.