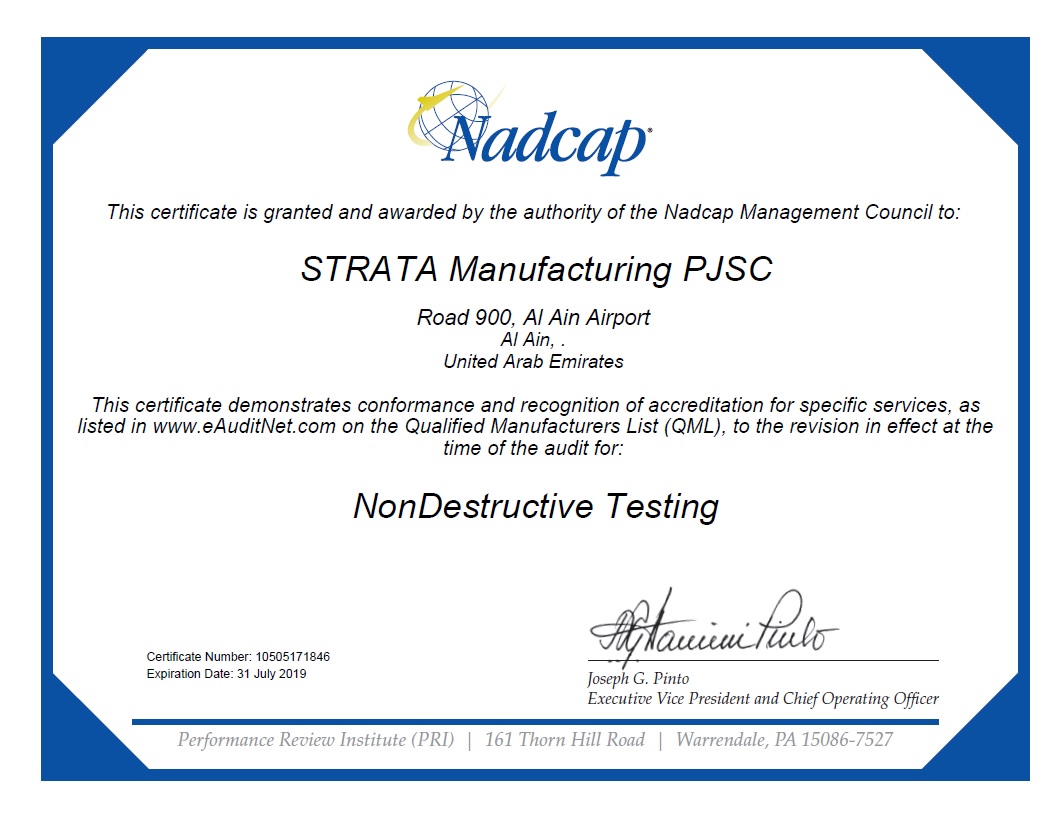 Strata earns its fifth consecutive zero-findings accreditation on the periodical NADCAP NDT (Non-Destructive Testing) audit
Strata Manufacturing PJSC (Strata), the advanced composite aero-structures manufacturing facility wholly owned by Mubadala Investment Company, today announced that it has completed the (Nadcap) periodic Audit for Non-Destructive Testing with Zero Findings for the fifth time in a row.
Strata was awarded the Nadcap accreditation on NDT after successfully completing the auditing process that evaluates the systematic compliance of equipment and personnel in-line with international standards found within the aerospace industry. Strata applies NDT methods such as Ultrasonic Inspection and Real Time Radioscopy to ensure that all parts manufactured at its premises are defect free.
Commenting on the company's achievement, Strata CEO Ismail Ali Abdulla said: "Receiving the Nadcap Accreditation with zero findings for the fifth time in a row is a tremendous achievement for Strata. Not only does it demonstrate our investment in meeting stringent industry and customer requirements, it also proves to the industry and to our clients that we are committed to quality and safety. For such a young company to achieve this so quickly and consistently is a testament to the tireless efforts of every single Strata employee towards building a world-class, competitive aerospace industry in Abu Dhabi and the UAE. I am incredibly proud of my colleagues."
Nadcap is the leading worldwide cooperative program of major companies designed to provide a standardized approach to quality assurance in the aerospace and defense industries through a cost-effective consensus approach to special processes and products. The aim of the program is to assess process capability for compliance to industry standards and customer requirements. It is administered by The Performance Review Institute, a US-based not-for-profit trade association.
"Achieving Nadcap accreditation is not easy: it is one of the ways in which the aerospace industry identifies those who excel at manufacturing quality product through superior special processes. Companies such as Strata work hard to obtain this status and they should be justifiably proud of it," said Joe Pinto, Executive Vice President and Chief Operating Officer at the Performance Review Institute. "PRI is proud to support continual improvement in the aerospace industry by helping companies such as Strata be successful and we look forward to continuing to assist the industry moving forward."