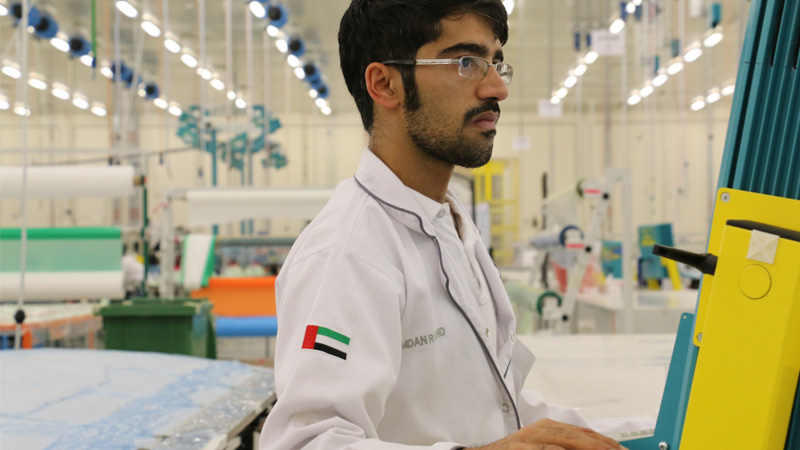 Strata highlights its factory of the future vision to the world
Strata Manufacturing PJSC (Strata), the advanced composite aero-structures manufacturing facility wholly owned by Mubadala Development Company, will be at Hannover Messe, the world's largest industrial trade event, held from April 24 to 28 in Hannover, Germany to showcase how it will support the transformation of manufacturing in the UAE with the landmark plan to build a 'Factory of the Future' facility in Al Ain, UAE.
Strata is set to explore collaboration opportunities with industry leading companies and technology providers who will support the development of its new 'Strata 2.0' facility.
Announced in March 2017, with plans to start construction next year, the new factory will adopt innovative solutions pivoted around the 4th Industrial Revolution (4IR) technologies; such as industrial automation and cognitive capabilities, to create a 'Factory of the Future' model that will transform Strata's existing operational footprint.
At Hannover Messe, Strata will form part of the UAE Pavilion that will feature several local economic and industrial powerhouses, showcasing technological developments and investment opportunities in the country.
The UAE Pavilion at Hannover Messe highlights the strides that Abu Dhabi and the UAE have taken in establishing themselves on the global manufacturing map—a journey of which Strata is proud to be a part of, Ismail Ali Abdulla, Deputy CEO of Strata commented: "Strata is a true Made in UAE success story. Since our beginnings in 2009—when we were founded, in part, to deliver Abu Dhabi's Economic Vision and develop a knowledge based economy and support socio-economic growth. Due to our track record, as well as our future Factory of the Future vision, Strata is trusted by the world's leading aircraft manufacturers to deliver aero-structure parts needed to for the global aerospace industry."
Strata's new facility was revealed to key industry audiences by Abdulla at the inaugural Global Manufacturing and Industrialization Summit (GMIS) in Abu Dhabi. The site will be located next to the company's current facility at Nibras Al Ain Aerospace Park, and is set to have a scale of approximately 60,000 sqm. It will implement a 'Smart Factory Ecosystem' to combine Smart Building, Smart Manufacturing, and Smart Workforce principles to drive efficiencies, eliminate waste, elevate quality and unlock greater value for its aerospace stakeholders. The facility will more than double Strata's existing capacity upon its completion in 2020.
Abdulla added: "At Hannover Messe, we want to demonstrate to our current and potential partners from across the globe the growing role of Strata as a reliable partner in the aerospace supply chain through the adoption of cutting edge technologies. Reinforcing our role in contributing to Abu Dhabi's Economic Vision 2030 to build a sustainable knowledge-based economy."
During Hannover Messe, Strata will be taking part in the '6th Annual UAE Investment and Business Forum', where the company will be part of a distinguished panel of UAE dignitaries discussing 'Innovation and Technology in the UAE'.
This will be Strata's second showing at Hannover Messe. The leading international trade fair promotes key technologies and core areas of industry, including research and development, industrial automation, IT, industrial supply, production technologies, and services to energy and mobility technologies.
The international event attracts more than 250,000 visitors and stakeholders each year.