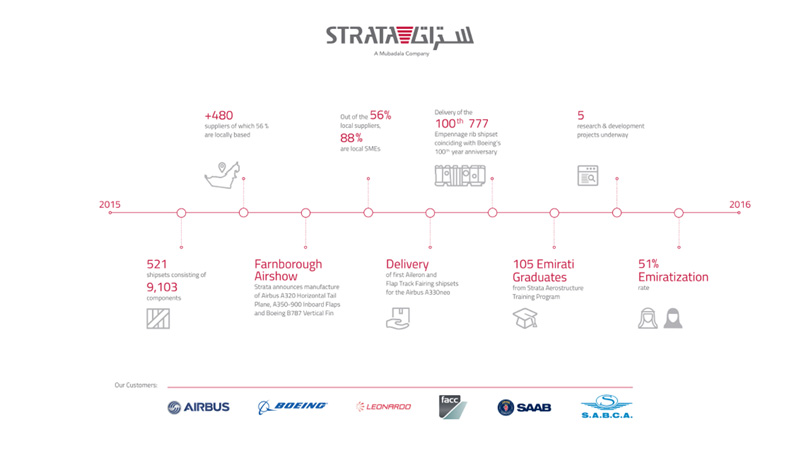 Strata reaches new heights in 2016
2016 witnessed Strata Manufacturing PJSC (Strata), the advanced composite aero-structures manufacturing facility wholly owned by Mubadala, reinforcing its position as an inspiring Emirati success story that is contributing to the realization of Abu Dhabi's Economic Vision 2030.
Commenting on its achievements, Ismail Ali Abdulla, Deputy CEO of Strata, said: "Since its integration, Strata understood the importance of empowering its employees in order for the company to become one of the top composite aero-structure manufacturers and compete on a global level. This would not have been possible without a balanced combination of people, vision and capability. And in six years only, Strata have proven to the world that it is capable of contributing to Abu Dhabi vision 2030 through diversifying the economy away from oil and gas and positioning Abu Dhabi and Al Ain as a global aerospace hub."
2016 was a year of transformation for Strata. Some of its accomplishments include:
20 percent year-on-year growth in shipset deliveries: Strata delivered a total of 521 shipsets, consisting of more than 9,103 components, including the first aileron and flap track fairing shipsets for the next-generation Airbus A330neo and the delivery of its first shipset of A350 – 1000 Flap Support Fairings
51% Emirati workforce: Strata continued to focus on building a leading Emirati workforce in the aerospace industry, celebrating the graduation of 105 UAE nationals from its Aero-structures Technician Training Program, a collaboration with UAE University in Al Ain. This boosted the company's Emiratization rate to 51%.
Emirati Woman take flight in the aerospace industry: Strata has always prided itself on its role in empowering Emirati women to pursue careers in the aerospace industry; national female talent now account for half of the 48 Team Leaders while 4 out of 11 supervisors are Emiratis.
Robust local supply: Strata boosted its competitiveness and supply chain capabilities, with an emphasis on growing its local supplier network; currently more than 56% of its 480+ suppliers are based in the UAE. Notably, 88% of the local suppliers are small and medium enterprises (SMEs)— supporting the development of Emirati entrepreneurism and capabilities in the aerospace industry.
Next phase of development: Strata strengthened its relationships with its key global aerospace partners as it worked to grow its future business manufacturing pipeline. At the Farnborough International Airshow, it was announced that Strata would manufacture the Horizontal Tail Plane for the A320 and the Inboard Flaps for the A350-900, as well as the Vertical Fin for Boeing's B787. It also celebrated the delivery of the 100th Empennage Rib shipset for the Boeing 777, coinciding with Boeing's centennial.
5 research & development (R&D) programs: Recognizing that innovation is essential to advancing manufacturing solutions to the benefit of its customers and the industry, Strata invested heavily in R&D back in 2015. It launched the Strata Lab at Masdar Institute, which focuses on manufacturing, automation, and materials research in aerospace production lines, while its partnership with Khalifa University, the Aerospace Research and Innovation Center (ARIC), acquired a robotic arm that will contribute to the development of more efficient automated manufacturing processes.