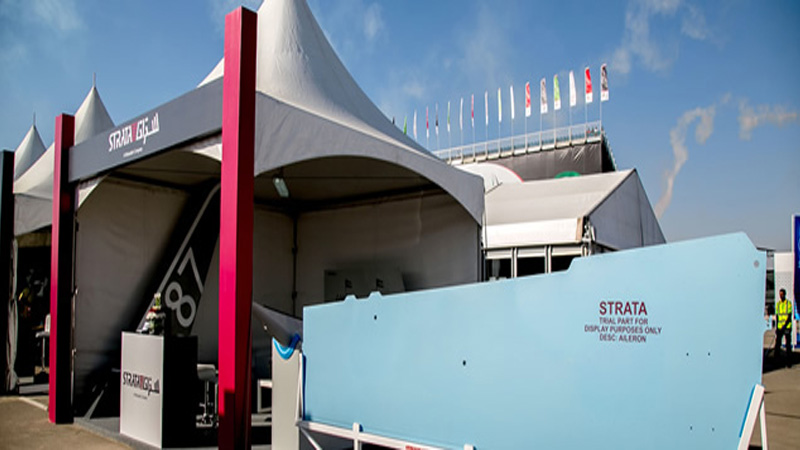 Strata showcases advanced aerostructure parts at Al Ain Air Championship,
Strata Manufacturing PJSC (Strata), the advanced composite aero-structures manufacturing facility wholly owned by Mubadala Development Company, was an official sponsor of the 11th Al Ain Air Championship at the Al Ain International Airport this weekend, December 17-19.
During the event, Strata showcased a variety of composite aero-structure parts it manufactures for global partners, including the Airbus A330/340 spoiler and A380 Flap Track Fairing, as well as a glimpse into its future with Boeing, through a mock-up of the 787 Vertical Fin that will be manufactured in its Al Ain based facility in the near future.
Badr Al Olama, CEO of Strata, said: "We're a proud sponsor of the Al Ain Air Championship and are deeply committed to the development of an integrated global aerospace hub in the city of Al Ain and Emirate of Abu Dhabi. This events provided us at Strata with a platform to engage with the local community on the global importance of the aerospace industry that is based in Al Ain, from job creation to broader economic development."
Strata technicians were on site at the air championship to demonstrate the highly technical process of manufacturing composite aero-structure components, but also took time out to spend with the children in the Lego activation area, teaching kids how to build model airplanes in a fun and active environment with Lego's.
Strata continually promotes future careers in aerospace for young Emiratis and is a committed supporter of the growth of Al Ain's people and its local economy. Emirati's play a leading role within Strata, representing more than 45% of its workforce, with a goal to reach 50% by the end of this year. Of those, 84% are women, a significant achievement in just 5 years since beginning operations in Al Ain.