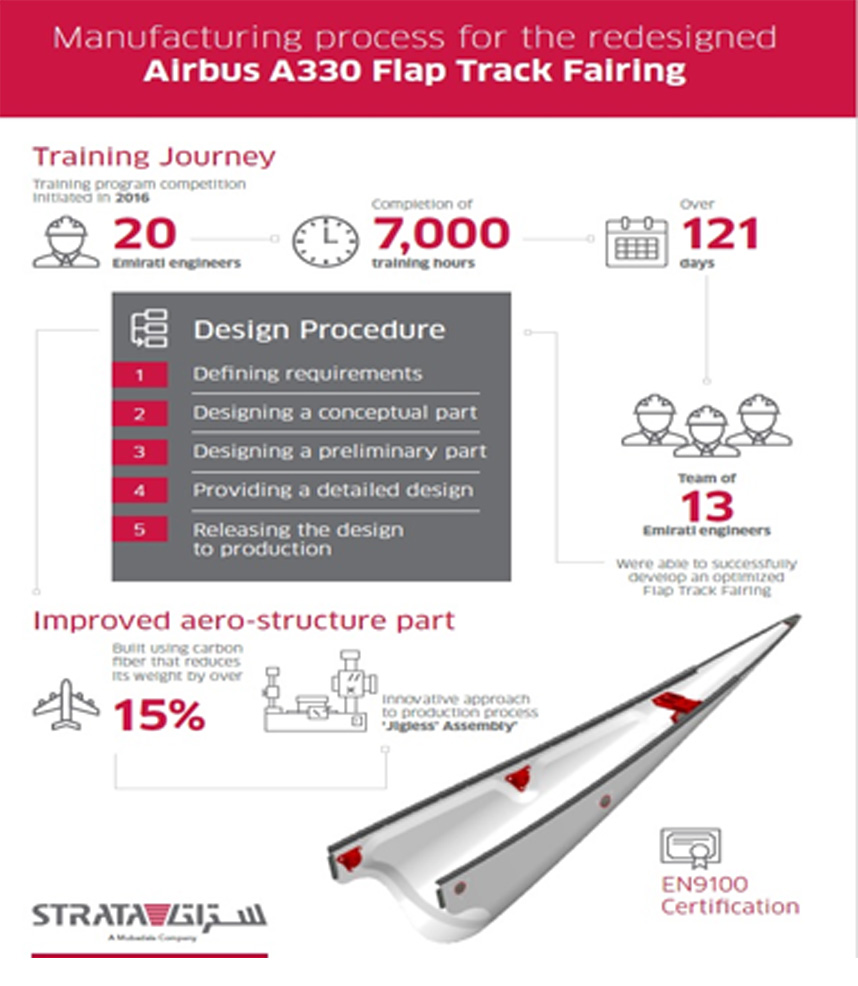 Strata showcases design and innovation capabilities at global aerospace summit 2018
Strata Manufacturing PJSC (Strata), the advanced composite aero-structures manufacturing facility wholly owned by Mubadala Investment Company, has announced the successful completion of the manufacturing process for the redesigned Airbus A330 Flap Track Fairing. The process was conceived and spearheaded by a team of Emirati engineers who tested the new product at Strata's state-of-the-art facilities in Al Ain.
A team of 13 Emirati engineers was able to successfully develop an optimized Flap Track Fairing following the Strata Design Process, which consists of five stages: defining requirements, designing a conceptual part, designing a preliminary part, providing a detailed design, and releasing the design to production. The improved aero-structure is built using carbon fiber that reduces its weight by over 15 per cent.
The design meets the EN9100 certification set by DEKRA, a leading global provider of auditing and certification services in the fields of safety, environment, and health, which qualifies a company to design and manufacture composite components for aircraft structures.
The engineers also introduced an innovative approach to the production process called the 'Jigless' Assembly. This enables components to be bolted together in the same way ready-to-assemble furniture is built, while maintaining strong aerospace tolerance, reducing production time and cost, as well as the floor area required in the process.
Commenting on the occasion, Ismail Ali Abdulla, CEO of Strata, stated: "In less than a decade, Strata has managed to prove its credibility in delivering aircraft components to global aerospace players such as Airbus and Boeing. Our ambition now is to solidify Strata's position as a vital link in the global aerospace supply chain by providing innovative products and expertise to our expanding client base."
"The EN9100 design certification and redesign of the A330 Flap Track Fairing was not a requirement set by our customers, but rather a proactive step in broadening our creative capacity and impact in the sector. I am immensely proud of the contributions of the highly competent team at Strata whose accomplishments are the key drivers of our success."
In 2016, Strata initiated a training program that focused on training 20 Emirati engineers in design specifications, manufacturing processes and quality assessments in accordance with international standards. Following the completion of 7,000 training hours over 121 days, the engineers were challenged by Strata's leadership team to redesign an A330 Flap Track Fairing ahead of the company's critical EN9100 design audit.
Strata's vision of becoming one of the world's top composite aero-structures manufacturers is strongly supported by the development of a pipeline of skilled local talent that will ultimately sustain the company's' long-term growth plans. A homegrown company, Strata prides itself in the achievements of its Emirati workforce and continues to offer various opportunities and training initiatives for employees to demonstrate and improve their professional capabilities.