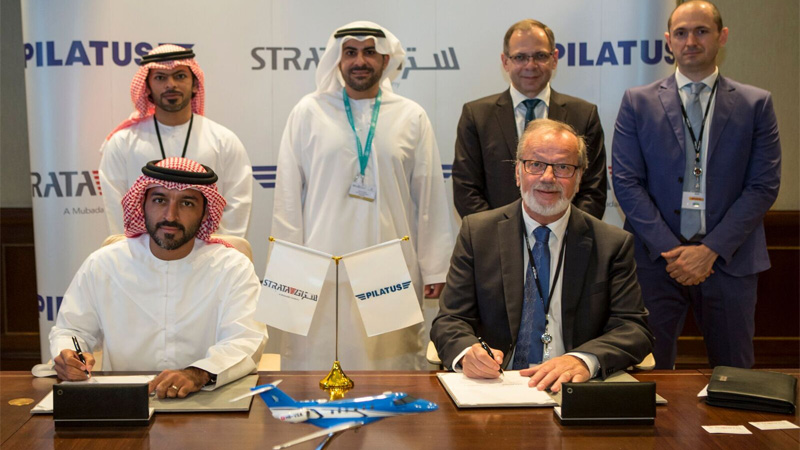 Strata spreads its wings through new partnership with pilatus aircraft ltd
Strata Manufacturing PJSC (Strata), the advanced composite aero-structures manufacturing facility wholly owned by Mubadala Investment Company PJSC, has signed an agreement to manufacture Belly Fairings for the PC-24, a twin-engine business jet produced by Pilatus Aircraft Ltd of Switzerland.
The announcement was made at the Global Aerospace Summit being held in Abu Dhabi from the 30th of April to the 2nd of May, 2018. The manufacturing of the PC-24 Belly Fairings is the first step of a long-term agreement between Pilatus and Strata targeting the production of the complete PC-24 composite shipset requirement in the UAE.
Commenting on the occasion, Ismail Abdulla, CEO of Strata stated: "This partnership with Pilatus marks the expansion of Strata's global business portfolio as it takes on new projects and enhances its competitiveness in the global aerospace sector. Our advanced technological operations and growing local capabilities demonstrate that the company is ready to venture into new territories, and explore competing opportunities that will drive our business forward."
Strata has partnerships with the world's leading aircraft manufacturers. This latest agreement reinforces Strata's credentials as a UAE success story with ambitions to be a global frontrunner in its field.
Commenting on the occasion, Fredy Glarner, VP Manufacturing at Pilatus Aircraft Ltd. "The partnership with Strata is not only a key element of the Pilatus strategy for the UAE to embed Strata into our global supply chain, but is also envisioned to become a pillar in our portfolio of local manufacturing projects. We look forward to growing the relationship with Strata and we are confident that it will be a driving force to further the Abu Dhabi Vision 2030 objectives."
Advanced aircraft manufacturing is a key area of focus at the 2018 edition of the Global Aerospace Summit, where leading local and international experts are gathering to discuss the future of the industry.
Based at Nibras Al Ain Aerospace Park and employing more than 700 people of 30 different nationalities – with 51 percent of its workforce being Emirati nationals and 41 percent of employees being female – Strata has partnerships with Airbus, Boeing, and Leonardo Aero-structures Division, and is a supplier to FACC AG, SAAB, and S.A.B.C.A. The company is part of Mubadala's Aerospace, Renewables and ICT platform, which aims to advance the development of a leading aerospace hub in the emirate.