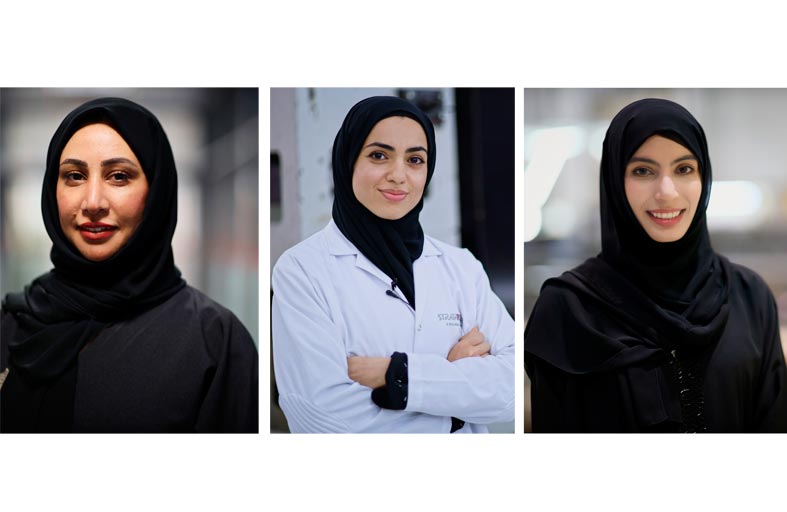 STRATA'S EMIRATI WOMEN PIONEER AEROSPACE INDUSTRY
Almost 90% per cent of Strata's national workforce are women
Al Ain, UAE – 28 August 2019: Strata Manufacturing, the advanced composite aero-structures manufacturing company wholly owned by Mubadala Investment Company PJSC, celebrates Emirati Women's Day by highlighting the integral role three different Emirati women play in the company. Those leading icons also represent a handful of the nearly 90% per cent women population in the manufacturing facility.
The UAE's homegrown success story, which celebrates its 10th anniversary this year, credits the determination and strength of its women Emirati workforce in driving 10 years of achievements – a decade which has positioned the Al Ain-based manufacturer as a leading supplier of aero-structure parts globally.
"A key measure of Strata's decade of success has been our ability to attract a skilled Emirati workforce and empower them to drive our growth and presence in the aerospace industry. Gender is irrelevant when it comes to ensuring Strata has the right people to support our growth. Personally, it is rewarding to be part of a company that provides such empowerment opportunities to women in a traditionally male-dominated industry." said Ismail Ali Abdulla, CEO, Strata Manufacturing.
"As the company embarks on its next phase of growth in the aerospace industry, we aim to continue our efforts to develop and empower the next generation of women Emirati leaders." he added.
More than half of Strata's 700-strong workforce are Emirati, of which nearly 90% per cent are women. Within the production area, 21 out of the 34 team leaders are also Emirati women whose role involve managing a diverse production team to meet the delivery target set by the world's leading aircraft manufacturers including Airbus and Boeing.
To celebrate the occasion and milestone, Strata's leading Emirati women have shared their stories to encourage the next generation of young UAE women to follow their own dreams.
Leading by example, Hessa Rashed Al Hemeiri, an IT Analyst, started her career with Strata in 2015 as a programme administrator. Intent on developing her capabilities and expanding her knowledge, Hessa took the initiative to develop various processes and initiatives for the benefit of internal colleagues and external partners. As a direct result of her efforts, Hessa was appointed as a project lead last year, putting her in charge of managing Strata's Product Life Cycle (PLC) and Enterprise Resource Planning (ERP), as well as supporting end-users and leading IT projects that support the wider Strata business.
"I am very proud to be a woman working in Strata. Every woman in Strata is unique with her skills and I find this motivating for other women to join the company," Hessa noted. "I have proposed multiple ideas that received encouragement from senior Strata management, such as system enhancement improvement ideas to develop applications which track the production process flow."
Commenting on the rich opportunities for Emirati females at Strata, Hessa believes they are there for the taking. "Gender barriers are not something anyone should hide behind because the UAE has facilitated everything to help women reach their goals. I would tell Emirati women not to restrict themselves and their abilities to make a difference in the UAE."
Junior Engineer Noura Al Harasi joined Strata as a fresh graduate two years ago looking for a position to develop her engineering skills: "Strata was the right opportunity for me to grow. Having more Emirati women working in Strata means a lot to me, it's so empowering and motivating. It makes me proud to be part of such a powerful female team."
Supporting Strata's legal and contracting processes as Legal Coordinator, Ameera Al Eissaee joined the company in 2013 her tasks involve developing contract life cycle procedures, claims processes and non-disclosure agreements, and manage the legal documentation process in a systematic way.
"With more than half of its workforce being women, Strata proves that a woman can have her own success story in the manufacturing industry; manufacturing airplane parts that connects people all over the world." Ameera noted.
Having had to work hard to achieve her career success and progression, Ameera encourages other women with the ambition and drive to conquer any obstacle in their way: "I want to tell the next generation of Emirati women that while we have reached this position we must aim higher. Women are a very important element in modern Emirati society, we can do anything."
For further information, please contact:
Petra Katusak and Dana Oraibi
strata@actionprgroup.com
+971 4 390 2960
About Strata
Strata Manufacturing PJSC (STRATA) is a composite aero-structures manufacturing facility based in the heart of Nibras Al Ain Aerospace, Al Ain, United Arab Emirates. The company was established in 2009, with production beginning in 2010. Strata has partnerships with the world's leading aircraft manufacturers such as Airbus, Boeing and Leonardo-Finmeccanica Aero-structures Division as well as a Tier one supplier to FACC AG, SAAB and S.A.B.C.A.
Strata is wholly owned by Mubadala Investment Company PJSC (Mubadala), the Abu Dhabi-based investment and development company and is part of the Aerospace, Renewables & ICT platform that aims to advance the development of a leading aerospace hub in Abu Dhabi.