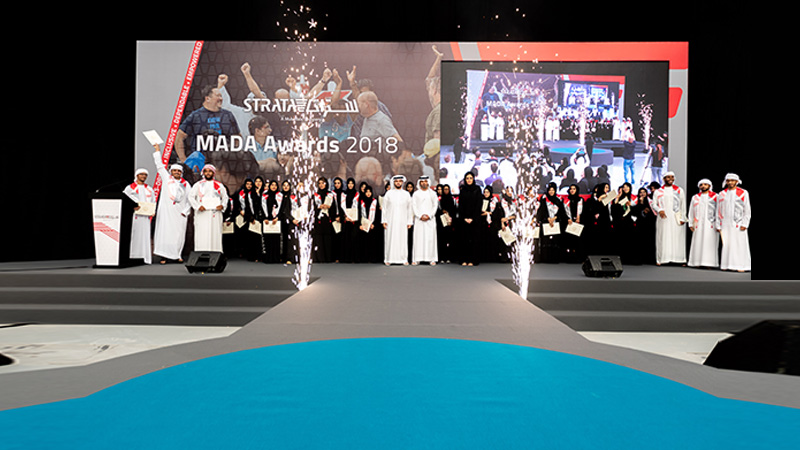 Strata's new graduates ready to reach for the stars
Strata Manufacturing, the advanced composite aero structures manufacturing company wholly owned by Mubadala Investment Company PJSC, has reinforced its commitment to expanding opportunities for Emiratis in the manufacturing sector with the graduation of the latest cohort of its Composite Aerostructures Training Program.
The specialised programme equips students with necessary skills to contribute to Strata's vision of becoming a global aerostructures manufacturer with distinct local roots, meeting the objectives of Abu Dhabi Economic Vision 2030 to create a diversified and a knowledge-based economy.
The new 67 graduates are the latest to join the Strata family following a collaboration with the United Arab Emirates University (UAEU) to educate and train Emirati technicians to support Strata's continued development as a local champion for manufacturing contributing to the development of Abu Dhabi's industrial capabilities.
"Strata is committed to nurturing, developing and championing the leaders of tomorrow with a passion for manufacturing and aerospace," said Ismail Ali Abdulla, CEO of Strata. "To build a competitive, skilled and dynamic workforce, we are constantly looking for young Emirati talent to join our ever-growing family and develop sustainable careers while contributing towards the nation's long-term vision."
With a strong focus on women empowerment in a traditionally male-dominated industry, the latest batch of composite aircraft technician graduates featured several high-performers.
Among them was Maitha Abdulla AlKuwaitti who scored the highest in Batch 13. Commenting on her graduation, AlKuwaitti, said: "It is a very special opportunity to follow in the footsteps of my sister, Nouf AlKuwaitti who works as an aero structure technician at Strata. I was always intrigued about aerospace and started my journey at a young age. With the support of my family, I have fulfilled the dream of being part of the Strata workforce. My next goal is to continue my studies and grow into a role model for UAE women in the aerospace sector."
Salama Humaid Al Nuaimi, who topped the class in Batch 14, said: "Watching my friends graduate from Strata's unique programme motivated me to enrol and drove me to excel. I am now manufacturing parts on the A330 aircraft, this new experience comes with great opportunities that will support me in understanding the new dimensions of aerospace. My next immediate goal is to complete my degree in aerospace engineering."
The Composite Aerostructures Training Program was created in 2010 to develop the knowledge base, and enhance the skill sets, of Emirati technicians and provide them with sustainable career opportunities. To date, the programme has graduated more than 300 Emirati students. As a result of a committed Emiratisation drive, UAE nationals account for more than half of the Strata Manufacturing workforce, of which 86% are women.