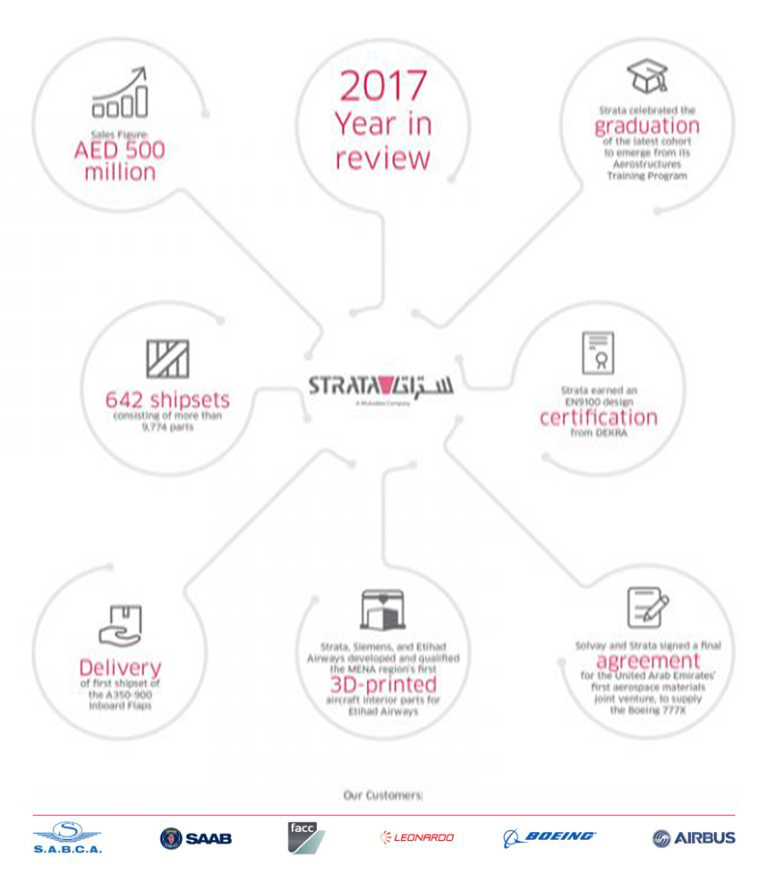 Strata's Success Continues to Drive Abu Dhabi's Emergence as a Global Aerospace Hub
Strata Manufacturing PJSC (Strata), the advanced composite aero-structures manufacturing facility wholly owned by Mubadala Investment Company PJSC, has revealed key business highlights for 2017 as it continues to make its mark on the global aerospace supply chain and contribute towards Abu Dhabi's economic diversification plans.
The Al Ain-based business is seeking to reinforce its position as a tier-one supplier to the world's leading aircraft manufacturers. In 2017, Strata increased its delivery of aero-structures to a record 642 shipsets comprising more than 9,774 parts totaling sales of AED 500 million, compared to 521 shipsets comprising 9,103 parts in 2016.
Strata's 2017 deliveries included the first shipset of its latest A350-900 Inboard Flaps Program to global partner, Airbus. The Inboard Flap is a key aircraft component located along the trailing edge of the wings and next to the fuselage, enabling planes to have greater lift during take-off and landing when the angle of the aircraft is high and its speed is relatively low.
Ismail Ali Abdulla, CEO of Strata, said: "Strata Manufacturing demonstrates to the world that a clear vision, precision and commitment can push the limits of what we can accomplish in the aerospace sector. In less than a decade, we have established ourselves as a trusted tier-one supplier to the world's top aircraft manufacturers. Our global focus aligns with our national purpose – to play a definitive role in advancing the aerospace industry in Abu Dhabi. The success we have achieved inspires us to propel our company to greater heights. We will continue to leverage new opportunities for introducing innovative solutions to the market while enhancing Strata's standing as a pioneering force in the local aerospace sector, as well as a valuable resource to our global partners."
In February of 2017, Strata and Reliance Defence Limited signed a Memorandum of Understanding (MoU) for collaboration between the UAE and India in the field of advanced aerospace manufacturing capabilities. The following month, Strata together with Siemens and Etihad Airways, developed and qualified the MENA region's first 3D-printed aircraft interior part for the UAE's national carrier.
Strata reaffirmed its strategic focus on sustainability, competitiveness, and growth with international partnership announcements at Dubai Airshow last November. The company finalized an agreement with Solvay, an international materials and chemicals company, to supply Boeing with advanced composite materials for the B777X made from pre-impregnated carbon fibers. During this global event, Strata also signed an MoU with Assistance Aéronautique et Aérospatiale (AAA) to collaborate on aircraft manufacturing support services and to advance vital supply chain capabilities.
Also last year, Strata earned an EN9100 design certification from DEKRA, a leading global provider of auditing and certification services in the fields of safety, environment, and health, which qualifies the company to design and manufacture composite components for aircraft structures. Strata has maintained its reputation for high quality operations by constantly ensuring that it is meeting industry requirements, and successfully completed the periodic Nadcap Audit for Non-Destructive Testing with zero findings for the fifth time consecutively. The result was announced following an intensive auditing process that evaluated the compliance of equipment and personnel with international aerospace standards.
Strata's Research and Development (R&D) unit continues to support its growing manufacturing portfolio, and is focused on developing breakthrough technologies that will drive the company's long-term competitiveness. Current projects include additive manufacturing, robotic assembly of aircraft structures, advanced inspection techniques through thermography, and optimization of the processing and machining of composite parts. These R&D projects are a collaborative effort with Strata's international partners and local research facilities. They are conducted within leading academic institutions, which has the additional benefit of encouraging Emirati students to contribute toward the development of manufacturing technology solutions for the aerospace industry.
Strata remains committed to investing in and developing national talent in the aerospace sector. The company celebrated the graduation of the latest batch of technicians to emerge from its Aerostructures Training Program. The initiative focuses on building a pipeline of resources in the aerospace sector by enhancing the skills of young Emirati nationals with the tools and knowledge necessary to pursue careers in the aerospace manufacturing industry.
Two Strata engineers are also currently participating in a training program run by Boeing in the United States. Both trainees have been working in Manufacturing Engineering and Stress Engineering since September 2017. Upon completion of the program, 24 Strata engineers will have completed their training with the global aerospace OEM.
"One of Strata's key aims and responsibilities is to develop a strong and sustainable workforce recognized for its technical expertise and capacity for innovation, and that is at par with the world's best specialists," added Abdulla. "This is a fundamental pillar of our contribution towards positioning Abu Dhabi as a global aerospace hub."
Strata showcased its world-class products and operations at several high-profile international and local events throughout 2017. The company was a proud participant at the Dubai Airshow, and the Mohamed Bin Zayed Majlis for Future Generations.