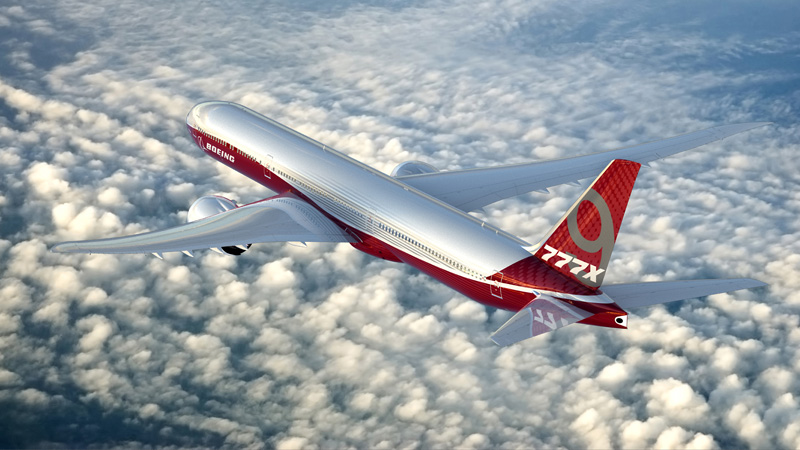 Strata manufacturing awarded boeing 777x composite aero-structures contract
Strata Manufacturing PJSC (Strata), the advanced composite aero structures manufacturing company wholly owned by Mubadala Investment Company PJSC, today announced a new contract award with Boeing [NYSE: BA], to manufacture composite empennage ribs for Boeing's new 777X airplane.
The agreement, announced at the Global Aerospace Summit, is Strata's first contracted statement of work for the 777X program, enabling the company to expand its role as a direct composite aero structures supplier to Boeing Commercial Airplanes. Strata will manufacture 777X empennage ribs at its state-of-the-art facility in the Nibras Al Ain Aerospace Park, in the Emirate of Abu Dhabi. This is the fourth work package that Boeing has awarded to Strata since 2013. Strata already manufactures empennage ribs for the 777 and vertical fin ribs for the 787 Dreamliner. In the future, Strata will be a supplier of the 787-vertical fin.
These achievements build on the strategic partnership between Boeing and Mubadala, a business development and investment company of the Abu Dhabi government, established in 2009. Enabled by Tawazun Economic Council under the Tawazun Economic program, both Strata and Boeing are advancing the commercial aviation industry in the United Arab Emirates (UAE), in support of Abu Dhabi's goals to become a global aerospace hub and diversify its economy. Strata is the first composite aero structures supplier to Boeing in the Arab world.
"Boeing is proud to advance our mutually beneficial strategic partnership with Mubadala in ways we strongly believe are delivering long-term benefits to the UAE's economy and Boeing's business growth," said Bernard Dunn, president Boeing Middle East, North Africa and Turkey.
"Building on its production for the 777 and 787, Strata will produce composite aero structures for the 777X, the world's most efficient twinjet and an airplane selected by UAE customers."
"The new 777X contract underscores Strata's strong reputation, and the confidence of our partners, which we have earned by delivering high quality components to a globally renowned aviation giant," said Ismail Ali Abdulla, Chief Executive Officer, Strata. "Strata continues to be a leading example and proof that 'Made in the UAE' isn't a goal for tomorrow, but a reality of today. Strata holds an important role in the evolution of Abu Dhabi towards becoming a global aerospace hub, and has become one of the leading employers for high value and fulfilling careers in the UAE."
"Since 1992, Tawazun Economic Council has worked actively with partners such as Boeing to diversify the UAE's economy by creating new ventures in sectors of national importance. Boeing's and Strata's growing relationship is generating knowledge-based jobs for UAE nationals and creating business opportunities in the Aerospace Sector," said Matar Ali Al Romaithi, Chief Industrial Officer of Tawazun Economic Council.